Hi!
Today's show is...
Lovely Lace
Lace Nails Art Tutorial
Lately I've been seeing lot of nail designs using lace and I was curious and wanted to give it a try. So I started to looking into it more.Of course it's lovely and simple and sometimes sexy nails. It just depend on what colors you combine.
Here are some examples of lace nails.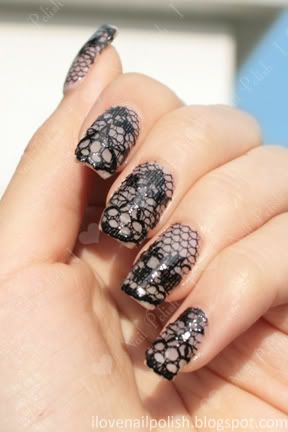 This one is very pretty.And also my favorite.
These are Katy Perry's nails. Love this idea.
I found some different tutorials of lace nails. They where either hard to understand or difficult for me.
So I kept thinking that there must be an easier way. I decided to make a tutorial myself.


Finished Styling:
Things you will need.
- Any color nail polish you like.
- A clear polish
- Sharp scissors
- Lace

Steps to follow.
1. Apply any polish of your choice.
2. Two coats of clear coat. (the first coat has to dry completely)
3. After you apply the second coat of clear polish lay the lace on your nail.
3.a. Gently press the lace onto your nail.
4. Cut the lace in the shape of your nail.
I do not apply a clear coat on top cause with white lace it looks weird.
But if you have problems making the lace stay on the nail then it's ok to apply a top coat on top of the lace.

Bye-Bye.